Take one last look at my broken down, magnolia-leaf-covered, sorry backyard. It is getting a face lift as I type. Michael is cutting down trees, pulling down fences, and making our backyard a place we can enjoy this summer.
You can read more about his plans as well as our
May Tweet and See
birding list over at
Birders for Life
. It's a small list this month. The birds are not as happy about my hub's project as I am.
Be on the lookout for the great reveal of our updated backyard soon!
Speaking of reveals...Heather, of Kingdom Arrows, and I have teamed up to bring you...
The Great Curriculum Reveal 2011!
Please join us on June 6th as we reveal our school plans for next year. You can post your plans on your blog and link in at
Kingdom Arrows
.
Make sure you visit me here at Olive Plants that day, too, because I will be offering a great giveaway!
Click
here
to read more about how to participate in the meme and visit Olive Plants on June 6th for all the details on the giveaway. I do hope you will join us. It's sure to be great fun, and the giveaway is a good one!! Help us spread the word, too, by grabbing the button from my sidebar. Thanks!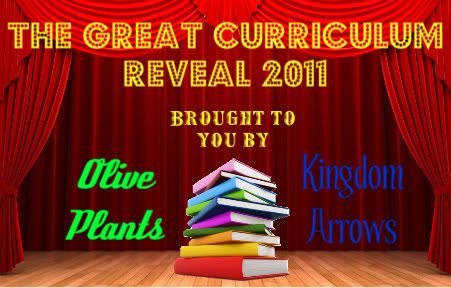 Hope to see you around for all the fun,
Dawn