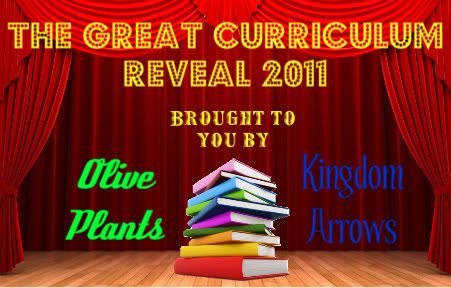 GIVEAWAY!


Details to follow,
so please,
read to the end. :)
It's time for the the Great Curriculum Reveal!
Clicking
here
will redirect you to
Our Academy
page
where you can read all about our plans
for the 2011-2012 school year!
I want to also tell you a little about my

One of our most-valued resources is the website
MAS is a paid membership site. The cost is incredibly reasonable, only $15 per year, per family. With a paid membership, you have full access to a large, and growing, collection of free downloadable audio content.
I plan to download several audio books available at MAS to my boys' iPod. Then they can listen to their school work while I tutor, while we grocery shop, while we're traveling to all our different out-of-school activities, or when we need a quiet time. You can read more about my MAS plans on
Our Academy
page.
The site creator, Molly, the
Counter-cultural Mom
, has poured hours (and I do mean HOURS) into this labor of love. Initially, Molly set out to find quality audio content for her dyslexic son, and in the process, created a place for families to access free downloads without having to search the world wide web over. She has done the hard work for us, and the time it saves me to have what I need at my fingertips is well worth the $15 subscription cost.
However, you may not have to pay for full-access this year! Molly has decided to celebrate the Great Curriculum Reveal with us by giving one Olive Plants reader a free one-year subscription to My Audio School!
To enter, visit
MAS
. Some of the content is available to non-members, so take a minute to peruse the free collection. Then return to Olive Plants and comment on this post about which audio book your child would most enjoy. While you're there, make sure you take a few minutes to look around. You will be amazed at all the titles Molly has compiled and the care she has taken to ensure quality content.
For additional entries you can do any or all of the following
(please leave a separate comment for each):
Follow Olive Plants.
Tweet about this giveaway (@Homeschooldawn).
Become a fan of My Audio School on Facebook.
Participate in The Great Curriculum Reveal. You will need to link in at Kingdom Arrows. This is worth 3 additional entries!!!
I will accept entries until Monday, June 13, 2011 at 11:59 p.m. I will select a winner using random.com on Tues., June 14 and announce the winner that day.
Make sure you visit

Kingdom Arrows

, too, and check out all the other participating blogs!
Happy Curriculum Revealing!