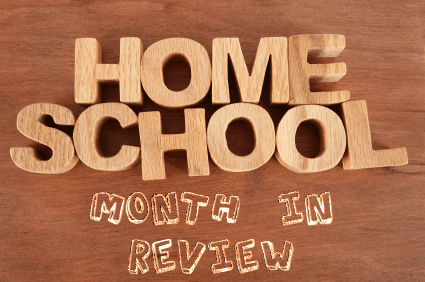 We've completed one month of school here at Olive Plants Academy! That was one fast month!! Here is a summary of what happened....
Wilbur completed Level 4 of AAS. We had planned to finish it over the summer which should have been easy to accomplish since he only had a few lessons remaining from last year. However, a certain teacher, who shall remain nameless, just couldn't get it together over the summer. It's not his fault. That same teacher also thought she already owned level 5, but doesn't. She put in a rush order yesterday and hopes it will arrive soon. Wilbur will get a little break thanks to her.
Orville completed Eusebius's Church History, St. Augustine's Confessions, and On the Incarnation (Athanasius) in Omnibus II. I almost put this in my bad section as it nearly drove him and me up a wall during the first week. We have found our groove, though, and he earned an A on the exam for On the Incarnation! Woot!!
Wilbur completed Singapore 4B and has begun work on 5A. He's flying through the first unit (mostly review). Way to go Mathman!
Orville started his first high school class. Yes, you read that right. High. School. Spanish. The boy takes after his dad and is passionate about foreign language. He made an A on his first test! Super, dude!
Orville headed to Spanish class!
I am teaching an IEW class for Wilbur and three of his best friends one day each week. Our first class met earlier this week, and we had a good time writing together. Wilbur enjoyed getting to work with his friends, too.
Disclaimer: This picture has nothing to do with our writing class
or school this month.
I was too busy to take many pictures
and wanted to include this cute shot of Wilbur giving a weather report
while at the Coca Cola Space Science Center!
My English tutoring is going great. I am currently teaching 3 women, 3 second grade boys, and 1 seventh grade boy, all Korean. The kids have lived in America for 3-4 years and speak English fluently. My job is to keep them ahead of the curve in reading and writing. I am teaching the women conversational English, each at a different level. It's a challenging schedule to keep. However, three of my students return to Korea in a few months. I covet your prayers as I am working so hard to homeschool and to teach English for the sake of the Gospel.
The cold season started early and with a bang! Two rounds of sickness made their way through the house in four weeks. I'm glad I had
our planners
to fall back on. They certainly made the sick days easier because the boys were able to keep themselves moving while I was delirious with fever and in a fog from sleep deprivation. By God's grace, we have been able to stay mostly on schedule. Praise the Lord for His presence and help!
If you have noticed the new look on the blog, that is because OP was hit by spyware (or something like that). I had to take off all my gadgets and erase links and pages and all kinds of stuff until I found the culprit that was redirecting my blog readers to another site. Now, I'm rebuilding everything. Thanks for your patience as get all my affiliate links and goodies back up! Let me know what you think of the new design.
998,000 ants invaded our home. 2,000 invaded the outside trash container. The things were EVERYWHERE! We have sprayed indoors and out multiple times and think they are finally gone. Phew! The
magnolia tree that Michael removed from our backyard
a few weeks ago must have been their home. We let them know real fast that they could not have ours.
That has absolutely nothing to do with homeschool, I realize.
Although, if the boys were younger, I could have turned it into a thematic unit with the Ants Go Marching 2 by 2 song, an estimation activity, an art collage made entirely of dead ants, ants on a log for snack, and a poetry exercise in which we lament over the infestation.
See, you never know what you'll get when you visit me!
You're welcome.
Well, I'm sure about a thousand other things happened last month, but you don't want to read a War-and-Peace-sized post. I don't have time to write it, either! :) That'll have to do for now.
I may make this a regular gig, perhaps even a meme. Would you be interested in joining me?
Happy Teaching!