If you have been following Olive Plants for my bird watching content, please check out my new blog that I coauthor with my fellow birding enthusiast, Heather. Together we are The Birding Chicks, and our blog is
Birders for Life
.
I have moved Birding 101 to B4L and am adding in several new posts and updating the old ones to include even more tips! I have feedburner set up now so that you can have our posts delivered directly to your inbox. Please subscribe so you won't miss any of our tips and tweets!
Also, don't forget the Great Backyard Bird Count is this weekend. It only takes fifteen minutes to participate; however, like eating a bag of Lay's potato chips, once you start, I'm sure you'll want to keep going!
Click here for more info.
Lay's Potato Chips?!? Why did I mention those?? If, like me, you are trying to rid your life of unneeded calories, join me for Wednesday Weigh-ins!
Read about how to join the weigh-in
torture FUN under my Wednesday Weigh-in tab!
And Heather is hosting a meme on her blog called
Tweet and See
. To participate, keep a record of the birds you see and hear during the month then record your list on your blog on the last day of the month and link in at
Kingdom Arrows
.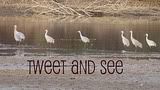 Heather and Barb, the
Harmony Art Mom
, are also hosting a new meme,
Drawing with Children, Nature-Style
. Barb has written lesson plans to accompany the book,
Drawing with Children
by Mona Brooks, and has made them available for free on
Squidoo
. I am going to use these plans with my
VSL
. They look great. Thanks
Barb
! Thanks
Heather
!
Happy Birding and watch out for those potato chips!
Dawn